Luis Vazquez, DO
Physician located in Phoenix, AZ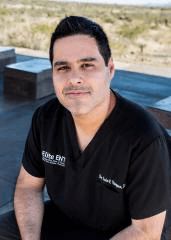 About Dr. Vazquez
Luis F. Vazquez, DO, FAAOA, offers top quality professional ENT services to the Phoenix, Arizona community at Elite ENT. He specializes in preventing, diagnosing, and treating allergies and disorders of the ear, nose and throat (ENT). He approaches each of his practice's patrons with the same regard he'd offer a good friend. Dr. Vazquez practices all areas of Otolaryngology with a special interest in Sinus and Allergy, and is dedicated to providing compassionate and personalized Ear, Nose and Throat care.
Dr. Vazquez earned his medical degree from Midwestern University Arizona College of Osteopathic Medicine. Following medical school, he completed his surgical internship and otolaryngology residency at St. John Macomb-Oakland Hospital. To further advance his training, Dr. Vazquez pursued his allergy fellowship with the American Academy of Otolaryngic Allergy (AAOA).
A Puerto Rico native, Dr. Vazquez moved to Arizona during middle school and started practicing medicine in Phoenix in 2014. He's bilingual, speaking both English and Spanish, and possesses a passion for attending to the needs of the underserved Latino community.
During his downtime, Dr. Vazquez pursues his passions for cooking, hiking, and traveling. He enjoys taking jujitsu with his son, and places an emphasis on health and fitness. He maintains an inquisitive interest in different cultures, languages, and cuisine.